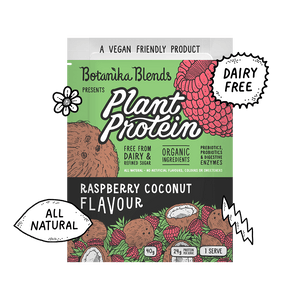 🧙🏻‍♂️ Taste The Difference  🧙🏻‍♂️
Our Raspberry Coconut Plant Protein is for those who love a sweet and creamy berry taste with a hint of coconut! This flavour was 1 of 3 original Plant Protein blends which Botanika surfaced with in early 2018. Our Plant Based proteins focus on natural, gut friendly benefits which you can notice the difference. Plant-based diets have been consistently proven to lower oxidative stress, reduce inflammation and control blood pressure and cholesterol. Our first product, 'Plant Protein', is an organic protein powder that aims to be the best tasting and most functional powder on the market for health-conscious consumers.
 We are Gluten Free, Dairy Free, Peanut & Tree Nut Free, Egg Free, Cane Sugar Free, Artificial Free. 
Ingredients
Nutrition Information
Storage
Formulated Supplementary Sports Food
Organic Pea Protein Concentrate, Coconut Milk Powder (8%), Organic Brown Rice Protein Isolate, Natural Flavours, Inulin, Acacia Fibre, Raspberry Powder (1.1%), Natural Marine Minerals (Calcium, Magnesium), L-Glutamine, BCAA (Leucine, Isoleucine, Valine), Beetroot Powder, Vegetable Gum (412), Raspberry Ketone, Natural Sweetener (Stevia), Probiotic (Bacillus Coagulans), Digestive Enzymes (protease, amylase, lipase, cellulase, lactase)
NUTRITIONAL INFORMATION
Serving Size: 40G 
 

Avg Qty Per 40g Serve

Avg Qty Per 100g

Energy

 

  600 kJ

143 cal

1501 kJ

  358 cal

Protein (as is)

24.9 g

62.3 g

Fat, total

   -  saturated

3.8 g

2.1 g

9.6 g

5.3 g

Carbohydrates

3.4 g

8.6 g

Sugars

2.7g

6.8g

Lactose

0g

0g

Galactose

0g

0g

Dietary Fibre

2.1 g

5.3 g

Sodium

313 mg

784 mg

Calcium

70 mg

176 mg

Magnesium

4 mg

10 mg

Raspberry Ketone

120 mg

300 mg

L-Glutamine

320 mg

800 mg

L-Leucine

120 mg

300 mg

Isoleucine

  60 mg

150 mg

Valine

  60 mg

150 mg

Probiotics

1.5 Billion CFU

3.8 Billion CFU

Gluten


Not Detected


Not Detected


AMINO ACID PROFILE

| | | |
| --- | --- | --- |
| ESSENTIAL AMINO ACIDS | Avg Qty Per 40g Serve | Avg Qty Per 100g |
| Lysine | 2156 mg | 5390 mg |
| Methionine | 346 mg | 866 mg |
| Phenylalanine | 1566 mg | 3915 mg |
| Threonine | 1107 mg | 2768 mg |
| Tryptophan |   277 mg |   693 mg |
| Isoleucine | 1430 mg | 3576 mg |
| Leucine | 2454 mg | 6135 mg |
| Valine | 1598 mg | 3996 mg |
| Histidine |   724 mg | 1812 mg |
| NON-ESSENTIAL AMINO ACIDS | | |
| Alanine | 1247 mg | 3119 mg |
| Arginine | 2491 mg | 6228 mg |
| Aspartic Acid |           3303 mg | 8259 mg |
| Cysteine |   238 mg | 597 mg |
| Glycine | 1185 mg | 2963mg |
| Glutamic Acid* |  4970 mg | 12427 mg |
| Proline | 1298 mg | 3246 mg |
| Serine | 1522 mg | 3805 mg |
| Tyrosine |   1039 mg |   2599 mg |
* Glutamine
Made In Australia From Less Than 10% Australian Ingredients 
Close package immediately after use. Store in a cool, dry place, away from direct sunlight