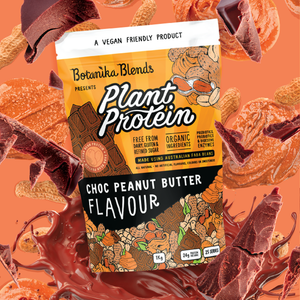 Choc Peanut Butter: A Wizard's Obsession Turned Magik Potion 🧙‍♂️
In a tucked-away corner of his bustling Botanikal Lab, our wizard had a guilty pleasure. Not a fascination with dark spells or forbidden magik, but a weakness for something much more tantalising: the sumptuous combination of chocolate and peanut butter. He loved it in every form: creamy spreads, crunchy bites, and everything in between. But then, our visionary wizard pondered, "What if this heavenly duo could be made healthier without losing its soul-satisfying charm?"
Thus, a magikal, mouthwatering experiment began... 🥁

A mission to make the chocoholics and peanut butter fans worldwide swoon. The wizard decided to fuse the divine pair with the power of plants. His magikal formula?

A dash of wizardry, a sprinkle of innovation, and a generous dollop of Choc Peanut Butter. Yes, that sounded just right.
Amidst the hum of arcane machinery and the bubbling of mystikal potions, a unique blend took form. Peanut Flour, Faba Bean Protein, and Organic Pea Protein came together in harmony. A hint of Organic Coconut Sugar sweetened the deal.

Did the wizard spill the coconut sugar once or twice in his excitement? We'll never tell 🫣
With every stir and every taste test, a new aroma filled the air, a scent of transformation. The wizard believed that the humble Faba Bean held the secret to a smooth, creamy texture without the grainy residue. Lo and behold, it did! The Faba Bean turned out to be a game-changer, making this Choc Peanut Butter Plant Protein a distinctive offering unlike any other in the Botanika family.
And then, as if by magik (because, well, it was magik), a marvel was born: the CHOC PEANUT BUTTER PLANT PROTEIN. What followed was a wizard's victory jig. And trust us, that's a sight to behold!
The result? 🪄 
A heavenly fusion that promises the irresistible flavour of choc peanut butter, the potent health benefits of plant protein, all wrapped in a creamy, non-grainy texture. Thanks to the magik of the Faba Bean 🫘
And perhaps a small, satisfied smirk from our wizard every time you take a bite. His humour might be nutty, but his culinary magik is serious business.

Crafted By Nature, Powered By Plants ✨
We are Gluten Free, Dairy Free, Peanut & Tree Nut Free, Egg Free, Cane Sugar Free, Artificial Free.  
_______________________________________
The Magik Within 
 Faba Bean Protein and Organic Pea Protein form the elixir's energetic core.
Peanut Flour and Cacao Powder enchant with a flavour spell, while Organic Coconut Sugar and Natural Sweetener balance the sweetness.
_______________________________________
Product Highlights 
➜ ALL NATURAL MAGIK 🪄
Celebrating Mother Nature's gifts, our elixir is free from dairy, gluten, refined sugar, and artificial additives.
➜
 ORGANIC ALCHEMY 🌱
Each ingredient, untouched by any malevolent force, pays tribute to the earth's bounty.
➜ DIGESTIVE ALLY 👌
Infused with prebiotics, probiotics, and digestive enzymes, our elixir fortifies your gut health.
➜
 

HOMEGROWN STRENGH 📍

The heart of our elixir is the Australian Faba Bean, showcasing our commitment to local, sustainable sources.

_______________________________________
Addressing Your Nutritional Quests 
➜ PROTEIN POWERHOUSE 🔋
With a rich supply of essential amino acids, our elixir fuels your vitality and strength.
➜ TASTE REVOLUTION 😋
The perfect harmony of Peanut Flour and Cacao Powder ensures a delightful, unique taste sensation.
➜
  GUARDIAN OF GUT HEALTH 🌿
Our potion is your ally for optimal gut health, fortifying your body's natural defenses.
➜ PURE NOURISHMENT 🥜
With our Choc Peanut Butter Plant Protein, you're savouring nature's finest, in its purest form.
_______________________________________
FAQs
IS THE CHOC PEANUT BUTTER PLANT PROTEIN DAIRY-FREE, GLUTEN-FREE, AND SUGAR-FREE?
Yes, all our products, including the Choc Peanut Butter Plant Protein, are crafted using plant-based ingredients and are 100% vegan-friendly.
WHAT IS THE SOURCE OF PROTEIN IN THIS BLEND?
The protein comes primarily from faba bean and organic pea protein isolate. This ensures a high-quality, plant-based protein source in every scoop.
WHAT IS THE TASTE PROFILE OF THIS PLANT PROTEIN?
This blend boasts the rich, creamy taste of peanut butter, sweetened with a hint of organic coconut sugar. It's a protein-packed treat that doesn't compromise on flavour!
HOW TO USE THE CHOC PEANUT BUTTER PLANT PROTEIN IN MY DIET?
Our Peanut Butter Plant Protein is versatile and easy to use. Add it to your smoothies, porridge, or baking recipes for an extra protein boost.
CAN I CONSUME THIS PRODUCT IF I HAVE A PEANUT ALLERGY?
Due to the presence of peanut flour, this product is not suitable for those with peanut allergies. Please consult your healthcare professional if you have any concerns.
DOES IT CONTAIN ANY ARTIFICIAL FLAVORS, COLORS OR SWEETENERS?
Absolutely not! All Botanika Blends products, including this one, are free from artificial flavors, colors and sweeteners. We believe in using only natural and organic ingredients.
_________________________________________________________________________
Embark on this tantalizing taste journey with our Choc Peanut Butter Plant Protein. Experience the magikal blend from the wizard's cauldron - a unique, delicious gift for those seeking a healthier, tastier, and more balanced life with Botanika Blends.
Ingredients
Nutrition Information
Storage
Faba Bean Protein, Peanut Flour, Cacao Powder (7%), Organic Pea Protein Isolate, Organic Coconut Sugar, Natural Flavours, Acacia Fibre, Vegetal Gum (Guar Gum),Himalayan Rock Salt, Coconut Milk Powder, Natural Sweetener (Steviol Glycosides), L-Glutamine, BCAAS (Leucine, Isoleucine, Valine, Emulsifier, (Sunflower Lecithin)), Probiotic (Bacillus Coagulans), Digestive Enzymes (Protease, Amylase, Cellulase, Lactase, Lipase).
NUTRITIONAL INFORMATION
Serving Size: 40G 
 

Avg Qty Per 40g Serve

Avg Qty Per 100g

Energy

 

644kJ (154Cal)

1610kJ (385Cal)

Protein

24.2g

60.6g

Fat, total

3.5g

8.8g

Saturated

1.0g

2.6g

Carbohydrate

7.0g

17.6g

Sugars

2.5g

6.1g

Lactose

0g

0g

Galactose

0g

0g

Dietary Fibre

3.0g

7.6g

Sodium

161mg

402mg

Calcium

28.8mg

71.9mg

Magnesium

17.2mg

43.0mg

L-Glutamine

120 mg

300 mg

L-Leucine

40 mg

100 mg

Isoleucine

20 mg

50 mg

Valine

20 mg

50 mg

Probiotic

0.90 Billion CFU

2.25 Billion CFU

AMINO ACID PROFILE

| | | |
| --- | --- | --- |
| ESSENTIAL AMINO ACIDS | Avg Qty Per 40g Serve | Avg Qty Per 100g |
| Lysine | 1130mg | 2830mg |
| Methionine | 138mg | 346mg |
| Phenylalanine | 747mg | 1870mg |
| Threonine | 670mg | 1680mg |
| Tryptophan | 109mg | 273mg |
| Isoleucine | 798mg | 2000mg |
| Leucine | 1390mg | 3480mg |
| Valine | 957mg | 23900mg |
| Histidine | 447mg | 1120mg |
| NON-ESSENTIAL AMINO ACIDS |   |   |
| Alanine | 771mg | 1930mg |
| Arginine | 1580mg | 3960mg |
| Aspartic Acid | 1880mg | 4700mg |
| Cysteine | 135mg | 339mg |
| Glycine | 732mg | 1830mg |
| Glutamic Acid* | 2980mg | 7440mg |
| Proline | 753mg | 1880mg |
| Serine | 916mg | 2290mg |
| Tyrosine | 611mg | 1530mg |
* Glutamine
Made from at list 43% Australian Ingredients 
Close package immediately after use. Store in a cool, dry place, away from direct sunlight
My Favourite
Mixed with Yoghurt it's like having a chocolate mousse. I love this flavour, it's my favourite.
All time favourite flavour!
Absolutely love the new choc peanut butter flavour! So smooth and creamy and doesn't have that protein powdery taste. More on the choc side with a hint of PB but it is so good!
A new favourite!
I was a little apprehensive to try this one as it only came in 1kg and 3kg bags, but decided to go for it - I mean, peanut butter and choc is always a winning combo. It's for sure my new favourite. I've tried a few Botanika Blends protein powders, and my only other favourite has been the choc mint one (and now this one). Doesn't have that classic 'protein powder' after taste, or texture - so smooth, creamy and delicious. Will be ordering again!
Best protein from Botanika blends
Love the new formula. The inclusion of faba bean protein makes it super smooth and creamy. Price is also very good for a premium protein. Please make a vanilla flavour!