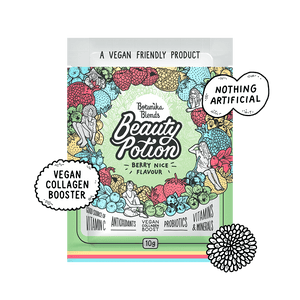 Beauty Potion is a potent blend of concentrated nutrient dense ingredients that is specifically created to boost the production of collagen 🌈 We use Plant Based Amino Acids, Natural Sources of Vitamin C, Antioxidant Rich Ingredients, Probiotics, Vitamins, Minerals and many other goodies to achieve what a beauty potion should be all about ... Beauty from within! You are what you drink, so bottoms up!  💌 

DISCLAIMER: Please note before purchasing. This a nutrient dense, concentrated super powder. The product contains ingredients such as amino acids and aloe vera which are bitter in nature. It also contains a number of berries and concentrated fruit powders such as Camu Camu that contain high levels of Vitamin C which are sour. If you have sensitive taste buds, we don't recommend you purchase this product.
Ingredients
Nutrition Information
Storage
Formulated Supplementary Sports Food
Superfuit Juice Powder (Raspberry, Strawberry, Pomegranate, Elderberry, Blackcurrant, Blueberry, Cranberry, Acai, Goji) L-Glutamine, L-Glycine, L-Proline, Natural Flavour, L-Lysine, Baobab Fruit Powder Organic, Probiotic Culture (Bacillus Coagulans), Anticaking Agent (Silicone Dioxide), Organic Camu Camu Fruit Powder, Minerals (Dipotassium Phosphate, Tricalcium Phosphate, Magnesium Oxide, Ferric Phosphate, Zinc Sulphate Monohydrate, Sodium Selenite, Chromium Chloride, Copper Sulphate, Magnesium Sulphate, Potassium Iodide Sodium Molybdate), Vitamins (E, C, A, B1, B (Vitamins & Minerals Premix)), Aloe Vera Powder, Organic Maca Powder, Green Tea Extract, Natural Sweetener (Stevia), Beetroot Powder
Manufactured On Equipment That Also Produces Products Containing Dairy, Egg, Soy, Tree Nuts, Lupin, Fish and Peanuts
NUTRITIONAL INFORMATION
Servings Per Packet: 30
Serving Size: 10G 
Directions For Use: Mix, Blend Or Stir 10G (Approximately 1 Heaped Tablespoon) With 250ML Of Water And Feel The Difference! 
 
Average Qty Per 10G Serve

Average 

Qty

 Per 100G Serve

Energy
146 KJ (35 Cal) 
1460 KJ (349 Cal)
Protein (As Is)
5 G
50.2 G

Fat (Total)

Saturated

>0.1 G

>0.1 G

0.4 G 

0.2 G

Carbohydrate

Sugars

3.6 G 

1.1 G

36.4 G

11 G

Dietary Fibre

1.1 G
10.96 G

Sodium

>1 MG
9 MG
Caffeine
5 MG
50 MG
Lysine
0.42 G
42 G
Glutamic Acid
1.9 G
19 G
Glycine
1.5 G
15 G
Proline
1.1 G
11 G
Probiotics
45 Million CFU
450 Million CFU
ORAC Value 
1,500 umol
15000 umol
VITAMINS AND MINERALS  
Average Qty Per 10G Serve

Average Qty Per 100G Serve

Vitamin A (ug)

0.02 UG

0.16 UG

Thiamin (B1) (MG)

0.02 MG

0.23 MG

Riboflavin (B2) (MG)
0.04 MG
0.36 MG
Niacin (MG)
0.21 MG
2.10 MG
Vitamin B5 (MG)
0.10 MG
1.05 MG
Vitamin B6 (MG)
0.10 MG 
1.05 MG 
Vitamin C (MG)
21.2 MG (53% RDI)
212 MG
Vitamin E (MG)
0.21 MG
21.0 MG
Folate (UG)
4.18 UG
41.75 UG
Vitamin K (UG)
1.68 UG
16.75 UG
Zinc (MG)
0.25 MG
2.51 MG
Selenium 

(UG)

1.47 UG
14.68 UG
Chromium 

(UG)

2.85 UG
28.5 UG
Iodine 

(UG)

3.13 UG
31.25 UG
Manganese 

(UG)

71.29 UG
712.88 UG
Molibdenum 

(UG)

3.56 UG
35.63 UG
Iron 

(MG)

0.25 MG
2.51 MG
Magnesium (MG)
6.71 MG
67.08 MG
Copper (MG)
0.004 MG
0.43 MG
Calcium (MG)
16.77 MG
167.73 MG
Phosphorus (MG)
20.97 MG
209.65 MG
Made In Australia From At Least 35% Australian Ingredients 
Close package immediately after use. Store in a cool, dry place, away from direct sunlight